When downloading the Calm app onto an iOS device, such as an iPhone or iPad, users have the option to activate a 7-day free trial to Calm Premium subscription content. This free trial is through the App Store, which means Apple handles the activation, cancellation, and any fees. Please see below for more explanation about how the free trial works.
1. Create an account: Before seeing the free trial screen, users will first have the option to create a Calm account. We recommend doing this if you plan to use a free trial, so that we're able to locate your information in our system should you need any assistance.
2. Unlock Calm: Shortly after signing in, you will see a screen inviting you to try 7 days of subscription access. This unlocks a 7-day trial to a Calm subscription on your Calm account. You can read more about what a Calm subscription includes here.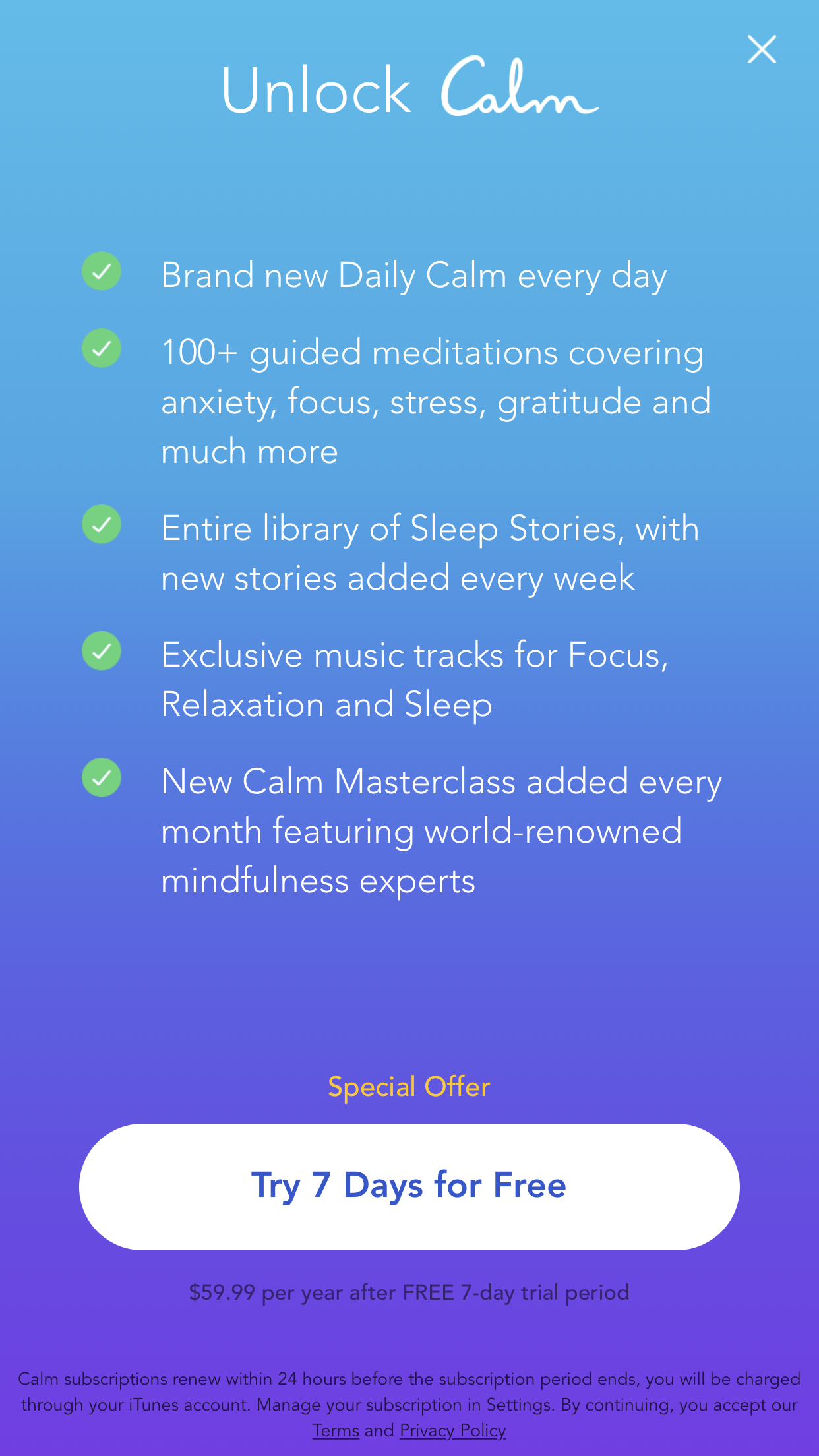 3. If you don't want to start a trial: If you do not wish to start a free trial, you can use the 'X' in the top right corner of the screen to exit. This will take you to the main home screen of the Calm app, where you can explore our free content. Subscription content will have lock icons next to it, such as the Daily Calm. Tapping on a subscription option will bring up a screen to unlock our full library of Calm Premium subscription content.
4. View Subscription Terms: If you decide to start a free trial, click on "Try 7 Days for Free". You will then see a screen with an explanation of the trial terms. The free trial will be active for 7 days, at which point you will be charged the full yearly subscription price. Please cancel the trial at least 24 hours before it ends to avoid any charges through Apple.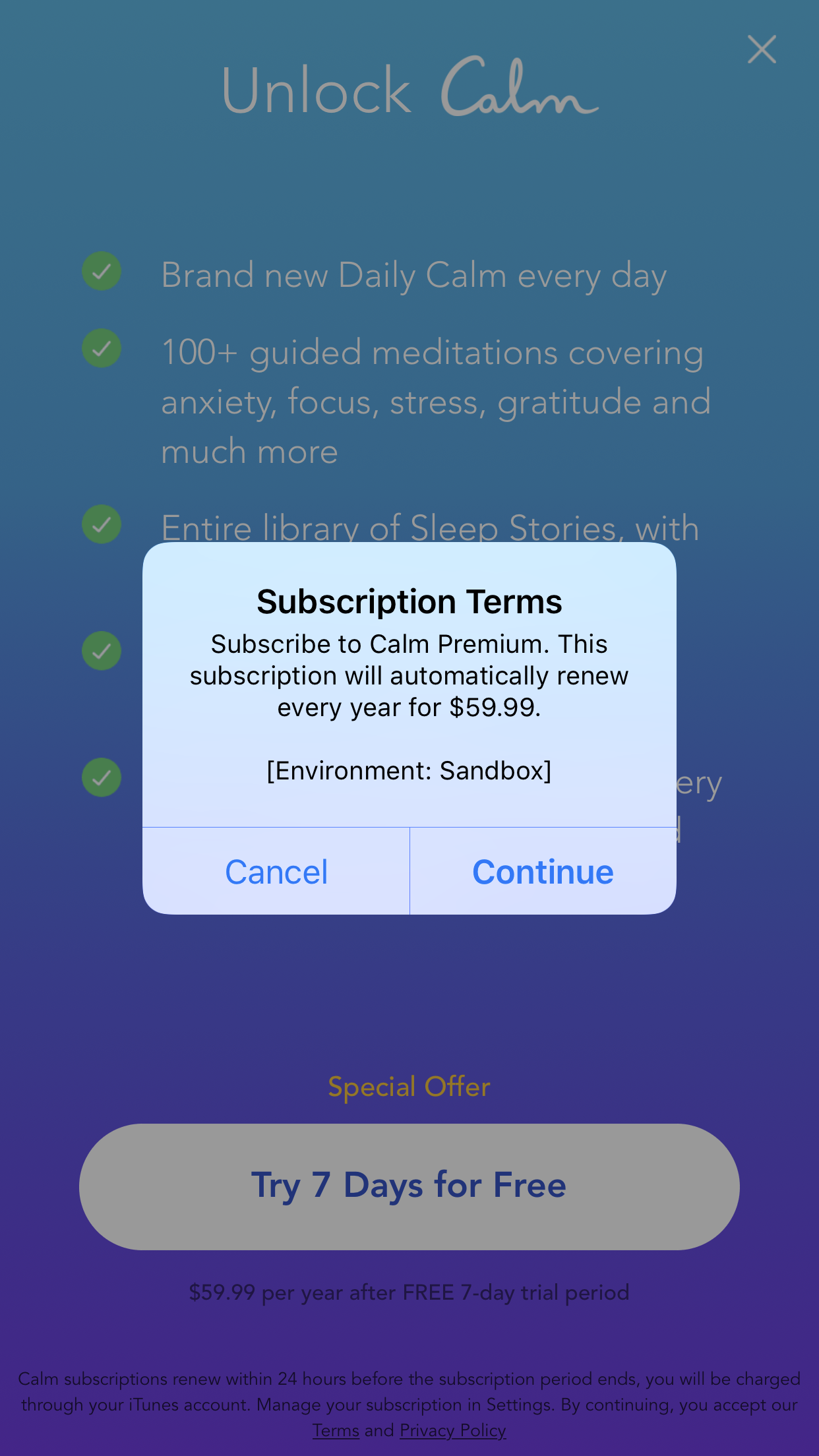 5. Confirm Subscription: Once you click Continue, you will see a final screen asking you to confirm your purchase, with instructions to cancel at least 24 hours in advance of the trial ending if you do not wish to continue into a yearly subscription.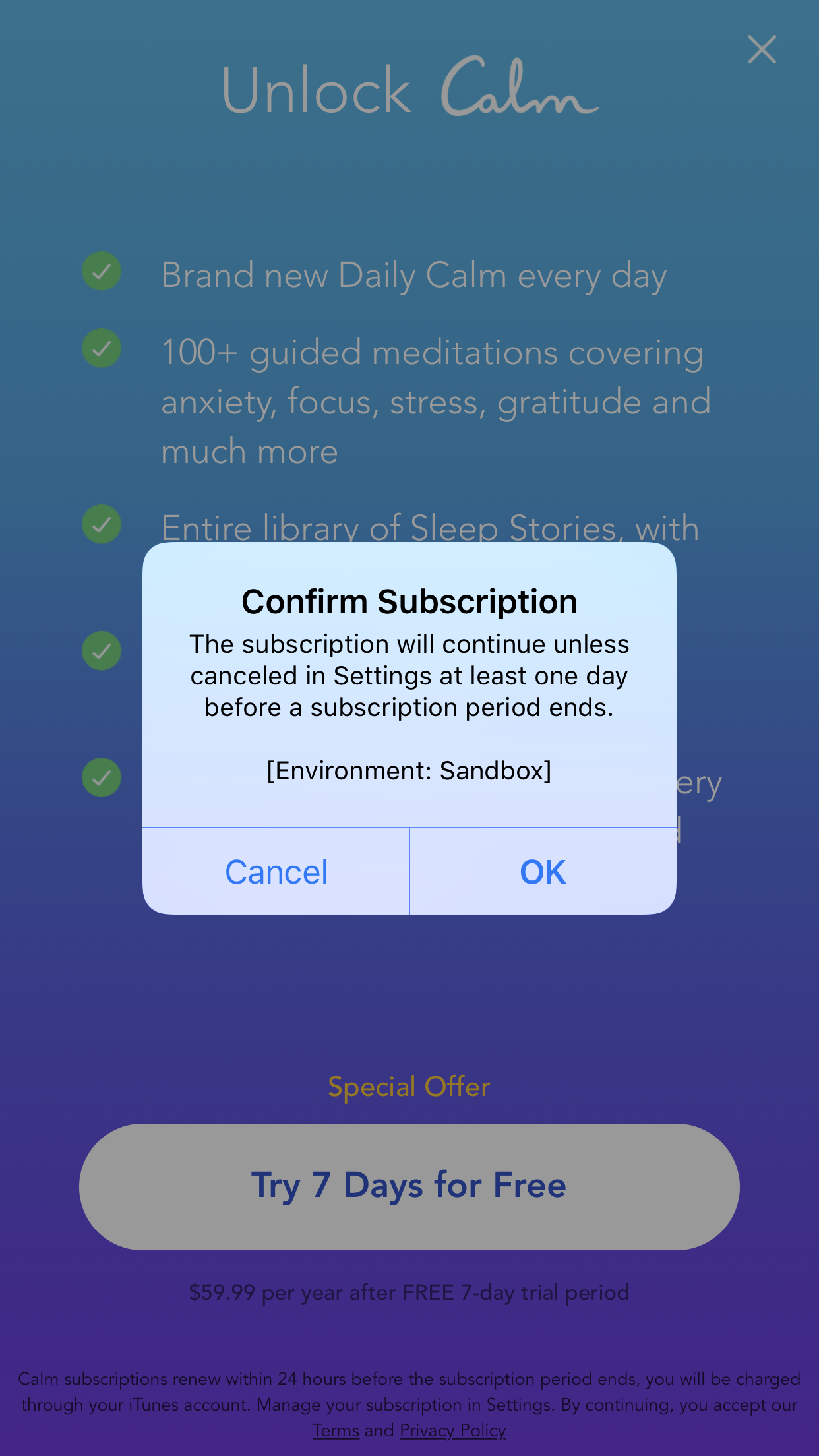 6. Start your free trial: Congratulations! You've started your 7 days of free access to a Calm Premium subscription. We have hundreds of hours of meditations, stories, and music for you to enjoy during your trial. You will know the trial activation has been successful if you see everything unlocked in the app. If you still see lock icons next to some of the content after starting the free trial, you can send us a message for more help.
7. Cancel your free trial: If you do not wish to continue into an annual subscription at the end of the free trial, please be sure to cancel as soon as possible. This article includes details about how to cancel your free trial through the App Store settings on your device.
8. Using Calm after your trial: If you cancel the free trial before it ends, the app will revert back to the locked version at the end of 7 days. You will then only be able to access our free content, which you're welcome to listen to as much as you'd like. If you do not cancel, you will be billed the full annual subscription price and you will continue to have access to the full library of Calm Premium content for the duration of your 1-year subscription.
You can read more about how subscriptions through Apple work here.